Library Instruction Classes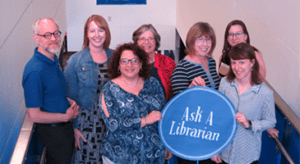 Hazy Library offers a variety of information literacy resources and instructional services where students can learn to…
Research effectively using the appropriate databases, books and websites
Think about information critically, in meaningful context
Integrate learning technologies in all phases of the research process
Understand information in ways that lead to knowledge and program study integration
Our resources and services are flexible, so you can find the format that fits your course.
Video Tutorials (embed them in Canvas!):
Virtual Workshops:
Librarian-led virtual workshops on the top-requested information literacy and research topics from our faculty
View workshop descriptions, calendar, and registration information on our Hazy Library Events Calendar page.
Virtual Classroom Instruction:
Want a librarian to teach your students a skill not covered in our workshops? Request more course-specific instruction through this online Hazy Library Instruction request form.
More information on resources and services is available on our Faculty Resources & Services guide.
---
-Last Updated on October 13, 2020