The Collection
The world's largest to-scale collection of miniature airplane models is housed here at the Hazy Library at Embry-Riddle Aeronautical University in Prescott, Arizona. The Kalusa Collection is comprised of 5,825 pre-flight, private, commercial, military, and rocket aircraft models.
The models are built to a 1/18 inch-to-foot scale. Consistent use of this scale provides all aircraft in the collection with accurate size relations to one another. Each model is painted with the detailed markings characteristic of the aircraft. In 2003, the Kalusa Miniature Aircraft Collection was inducted into the Guiness Book of World Records for the largest collection of handmade aeroplanes in the world.
Mr. John W. Kalusa
John W. Kalusa painstaking handcrafted the collection over much of his life. In 1936, at the age of 14, he started making World War I models for a battle game. After serving as an aerial photographer and mechanic in World War II, Mr. Kalusa resumed his hobby. A retired purchasing agent with Rocketdyne, Mr. Kalusa carved and painted an average of two model aircraft a week at his home in Mesa, Arizona. Mr. Kalusa passed away on February 17, 2003.
Viewing Hours
The Kalusa Miniature Aircraft collection is available for viewing during library hours.
Kalusa Videos
Watch a video featuring Mr. Kalusa and the Kalusa Miniature Aircraft Collection.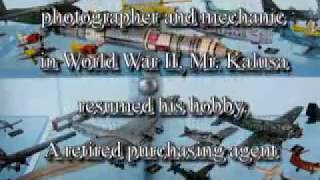 Play Video,
PC Hazy Kalusa Collection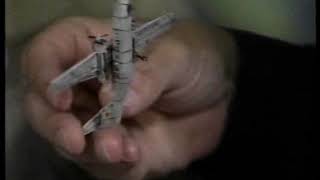 Play Video,
PC Hazy Kalusa Good Morning AZ
Information / Tours
For more information or to schedule a tour of the collection, please contact the Kalusa Miniature Aircraft Curator:
Linda Eisner