The Hazy Library opened as a campus landmark building in 2008. The facility incorporates emerging information technologies throughout the building for individual use and team project collaboration. Research and study accommodations support different learning styles, and open seating and tables allow students to enjoy the mountain vista views.
Take a 3D tour of the library (created by the Hazy Library's own student worker, Dai Ibrahim, using 3Dvista Software to check out the spaces described below.
Worthington Reading Room
A reading room is named in memory of Gertrude V. Worthington, a former ERAU Board of Trustees member for over 20 years and avid supporter of libraries. This rich, warm, and stately environment has oversized leather chairs, large tables with banker's lamps, study carrels, and the
Howe Eagle Collection
. As Worthington stated, it "ensures that students have a place to call their own at study time."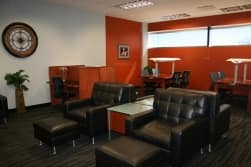 Computer Commons
As the hub of the Library, the Computer Commons is a technologically rich environment with 44 computers, scanners, and printers.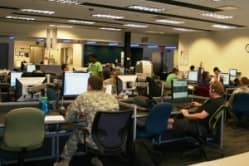 Presentation Room
This inviting multimedia-ready room (Room 204) seats 24 occupants. It has 2 video display monitors used for team briefings and multimedia presentations. A floor-to-ceiling writable surface provides ample space for writing engineering formulas, diagrams, flow charts, and language word conjugations. This room may be reserved using the
Library's Reserve A Room
page.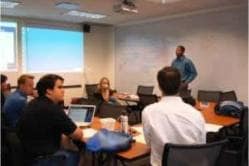 Collaboration Rooms
Two collaboration rooms - Rooms 207 & 248 - both seat 12 occupants. Each room is equipped with one or two video display monitors for multimedia creation and presentation. Of note, the ATP room (Room 207) is named in honor of
Aircraft Technical Publishers
. Both rooms may be reserved using the Library's
Reserve A Room
page.
Group Study Rooms
Eight study rooms are available for up to four occupants. They may be reserved using the Library's
Reserve A Room
page.
Testing Center
The Testing Center (Room 232) is the campus Testing Center. Please see the Testing Center page for hours, contacts and the Test Request Form.
Research Instruction Room
This classroom (Room 123) is designed with 40 computers and an instructor station. It is also equipped with a computer projector. The Research/Instruction Librarians teach students how to locate, evaluate, and use information in the Library Research Instruction Program. Faculty and Staff may also book the room through
SchedulER
. When not in use, the room is available as an open lab for students.
Study Areas
Open tables and comfortable soft seating are available throughout the building for individual reading and study and for groups working together. There are also 19 individual study carrels and 4 computers for a total of 23 seats in the Quiet Zone on the first floor.