Follow us on our social media channels for your chance to win food and other prizes.
The more you follow, the more chances you have to win.
@HAZYLIBRARY #GOERAU #HAZYLIBRARY #HAZYSMART
#HAZYLIBRARYERAU #ERAUHAZYBEAR #SMARTER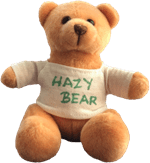 Hazy Bear is hiding, usually around the library. When you've spotted Hazy Bear, follow these steps to be entered to win a prize:
Take a picture of or with Hazy Bear.
Post it on your story with #erauHazyBear or tag @hazylibrary.
Bring Hazy Bear to the Front Desk or Help Desk.